The Morning Heresy is your daily digest of news and links relevant to the secular and skeptic communities.
As I type, the alleged perpetrators of the Charlie Hebdo attack have taken hostages in Paris.
CFI's Michael De Dora was on Ed Schultz's show on MSNBC last night discussing the free expression implications of the attack. Our boss Ron Lindsay gave a long interview on the same subject to Evan Dawson on WXXI's Connections radio show, as well as appearing on WBFO radio.
CFI-UK's Stephen Law explains the legitimate reasons for ridicule of religion, writing, "Laughter may not be the only way of getting people to recognise the truth, but it's sometimes the quickest and most effective way."
Last night, Saudi Arabia began its torture-by-flogging of Raif Badawi, inflicting the first 50 of his 1000-last sentence, in public. Elham Manea reports on Twitter:
Despite the severe beating #raifbadawi did not flinch; he held the victory symbol and guard had to hold his hand down.
Michael De Dora tells the Daily Caller, "Make no mistake: this is one part of an all-out effort to stamp out all forms of dissent in Saudi Arabia. No one there is safe." Common Dreams carries our statement demanding Badawi's release.
The Register cites CFI's acquisition of the official Saudi judicial documents on Badawi's case. The U.S. State Department urged Saudi Arabia not to go through with the flogging.
Bob Churchill at the IHEU says:
Raif Badawi was whipped in front of a mosque in public after Friday prayers. Not only is the sentence savage, and an absolute violation of human rights and dignity, but its execution is designed for maximum humiliation, for vengeance. It is a naked attempt to intimidate all those who question authority into silence.
A Pakistani man strangles his five children, believing that doing so would give him magic powers and the ability to perform alchemy, based on ancient Sufi lore. Also in Pakistan, Abid Mehmood, arrested in 2011 for blasphemy for allegedly claiming to be the prophet, is gunned down.
Kimberly Winston tries to clear up whether it's even true that Islam bans images of Muhammad. (She's also got a piece on atheists' answer to Good News Clubs, "Better News Clubs.")
Our friends at CFI-Canada make the news by opposing Canada's archaic blasphemy law, and on the Badawi case.
On a lighter note, another CFI staffer was on MSNBC yesterday, as Ben Radford discussed the impact of climate change on cryptoids on the show Greenhouse.
Two CFI staffers, Melody Hensley and Sarah Kaiser, honored with Secular Woman Awards! Congratulations!
Forecast the Facts takes the Committee for Skeptical Inquiry's statement on climate deniers vs. skeptics, and turns it into an online grassroots petition. You can sign on too.
After 20 years on the run, a crook-psychic is found and arrested.
Mark Zuckerberg is coming for you.
Quote (or Cartoon) of the Day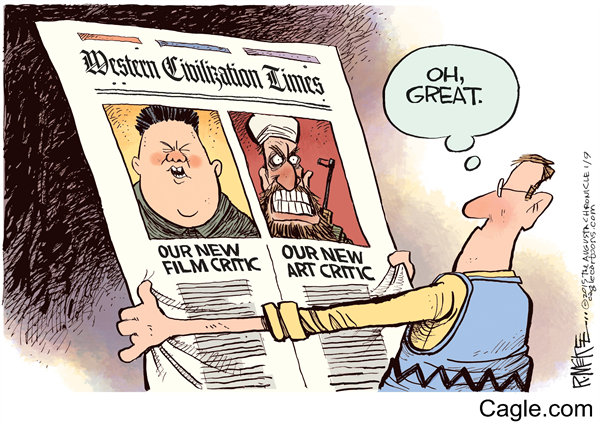 * * *
Linking to a story or webpage does not imply endorsement by Paul or CFI. Not every use of quotation marks is ironic or sarcastic, but it often is.
Follow CFI on Twitter: @center4inquiry
Got a tip for the Heresy? Send it to press(at)centerforinquiry.net!
The Morning Heresy: "I actually read it." – Hemant Mehta