The Morning Heresy is your daily digest of news and links relevant to the secular and skeptic communities.
Truly disturbing, almost sounds like a parody of a blasphemy-law situation: Myanmar sentences a bar manager from New Zealand and two others to two years in prison for posting an "insulting" image of Buddha wearing headphones as a promotion for the bar.
Michael De Dora will presenting to the UN Human Rights Council again later today, in the mean time we have our colleague Elizabeth O'Casey arguing in favor of free expression as a way to counteract religious violence.
Point of Inquiry this week looks at the looming disaster of climate change from a much wider perspective: what happens to the rest of the planet's species after we're gone? Lindsay Beyerstein interviews science journalist Michael Tennesen.
If you've given money to the We Are Atheism organization, you're going to want to read Hemant Mehta's investigation into what looks to be a big mess.
So you're probably wondering what would happen if an 800-kiloton nuclear warhead were detonated over Midtown Manhattan. I know I was, and I wonder no more. It's more horrible than you're even imagining.
In a disaster of another kind, the Wall Street Journal editorial board has a temper fit over Democrats' investigations of climate change-denying academics, screaming about attacks on free speech and whatnot. "So liberals are trying to silence those who are winning the argument." Is that a joke? Alas.
Ben Radford lets us in on a conversation with a "reality" TV producer who thinks they're looking for a paranormal investigator for a show.
Elmo Keep has a new piece revealing the problems with the Mars One program, which leads me to conclude that they share more than a few characteristics with religious cults.
Hey Michiganders: Time to contact your state legislators to oppose a bill that would legalize religious discrimination by adoption agencies.
PRRI has data on how religiously unaffiliated some big US metro areas are. Portland, OR is the None-est at 42%. (My metro area of Portland, Maine isn't listed, but going into their interactive map, I can see that Maine as a state is 28% unaffiliated.)
Speaking of Maine, some pastor guy in Maine, Ken Graves, is seen on video here scaring his flock about the coming secular humanist caliphate. Finally! Our empire will rule the w— I mean, that's ridiculous.
In case it wasn't obvious, epidemiologists conclude that vaccine-refusal is to blame for the Disneyland measles outbreak, where vaccination rates of those exposed were nowhere near the necessary level for herd immunity.
Kylie Sturgess interviews artist Alexia Sinclair for Skeptical Inquirer on her work to promote vaccinations with "glamorous, fantasy-like" imagery.
This St. Patrick's Day, watch out for weeping statues. I wonder if in the near-future we'll start to see facepalming statues.
The Reformed Church in America, in San Francisco, drops its celibacy requirement for LGBT members.
Obama comes clean on his allegiance to the space aliens.
A meteor lights up Loch Ness. Nothing silly here, just a cool picture.
Yetis are still not undiscovered bear species. FYI.
ISIS loves Mickey-D's. Or as one commenter put it, "Allahvun It."
Headline of the Day: "Sorry, Hippies, Homeopathy Is Totally Useless"
Quote Photo of the Day
Buzz Aldrin, who keeps finding ways to be awesome: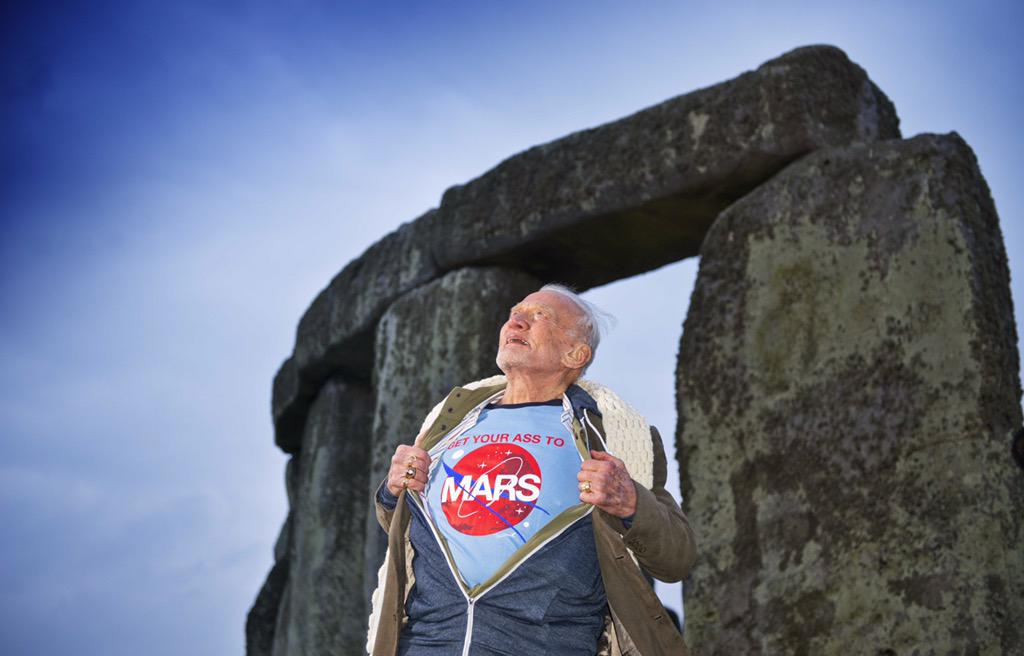 Linking to a story or webpage does not imply endorsement by Paul or CFI. Not every use of quotation marks is ironic or sarcastic, but it often is.
Follow CFI on Twitter: @center4inquiry
Got a tip for the Heresy? Send it to press(at)centerforinquiry.net!
The Morning Heresy: "I actually read it." – Hemant Mehta