February 26, 2015
* * * UPDATE: Read Dr. Roy's final article for Free Inquiry, to be published in the upcoming April/May issue: "The Virus of Faith." [PDF] * * *
We at the Center for Inquiry are shocked and heartbroken by the brutal murder of our friend Dr. Avijit Roy in Bangladesh, it is speculated at the hands of
Islamic militants. Dr. Roy was a true ally, a courageous and eloquent defender of reason, science, and free expression, in a country where those values
have been under heavy attack.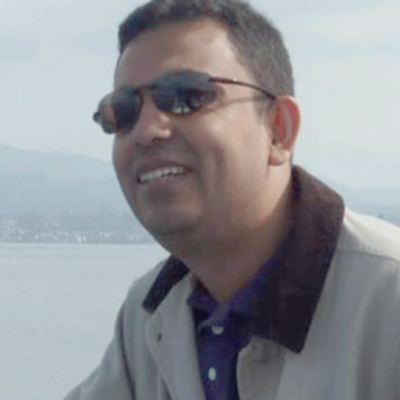 Dr. Roy was the founder of the website Mukto-mona, an online network of freethinkers of mainly Bengali and
South Asian descent, as well as the author of several books, and a contributor to our own magazine Free Inquiry and our Free Thinking
blog. When seven Bangladeshi atheist bloggers were arrested for blasphemy in 2013, Dr. Roy worked closely with us to connect us with the bloggers and their
families, focus the international community's attention on the injustice, and help organize and promote protests around the world.
According to news reports, Dr. Roy and his wife Rafida Ahmed Bonna, also a freethought writer, were attacked while leaving a book fair at Dhaka University by several unidentified
assailants, who witnesses say "hacked at them mercilessly." Both were brought to Dhaka Medical College Hospital where Dr. Roy died, and Bonna is being
treated for her severe injuries. Dr. Roy has long been at the receiving end of death threats, been publicly accused of "defaming Islam," and violence
against him has been encouraged by Islamic militants.
"I cannot overstate how great a loss this is," said Michael De Dora, CFI's chief UN representative and friend of Dr. Roy. "Avijit was brilliant, yes, and a devoted advocate of free expression and secularism, but also just a very good person. Avijit was
an inspiration to countless other freethinkers, in Bangladesh and around the world, and he was an inspiration to me. I valued our friendship deeply, as I
valued his contributions to our shared mission. I will miss him, and the global freethought community will feel the impact of his loss. His example will no
doubt continue to shine."
The Center for Inquiry urges the authorities of Dhaka and Bangladesh to thoroughly investigate this crime and bring the perpetrators to justice. While it
is not known for certain what motivated this attack, surely this tragedy must spur a serious discussion among officials in Bangladesh about free
expression, and the roots of the kind of violent extremism that would so brutally take away such a valued member of its society.
We extend our deepest condolences to Rafida Ahmed Bonna, and we sincerely hope she receives both justice and a quick and full recovery.
Read Dr. Roy's Free Inquiry article, co-authored with his daughter Trisha Ahmed: "Freethought Under Attack in Bangladesh"
Read Dr. Roy's guest post at our Free Thinking blog: "No Flag Large Enough to Cover the Shame"
* * *
The Center for Inquiry (CFI) is a nonprofit educational, advocacy, and research organization headquartered in Amherst, New York, with executive offices in Washington, D.C. It is also home to both the Committee for Skeptical Inquiry and the Council for Secular Humanism. The mission of CFI is to foster a secular society based on science, reason, freedom of inquiry, and humanist values. CFI's web address is https://centerforinquiry.org.